By most objective standards, Eugène Atget would be judged a failure during his lifetime. He tried a number of professions and earnestly worked away at them, but at best he only managed to find a way to sustain himself and his longtime companion, Valentine Delafosse-Compagnon. Atget's real success wouldn't come until after his death–and even then it took four decades.
Atget was born in 1857 in Libourne, a wine-making village in the southwest of France. His parents died when he was seven, after which he lived briefly with an uncle before going to sea as a cabin boy on a transatlantic vessel. He remained at sea in various capacities until he was in his early twenties. His reasons for giving up the sailor's life are unknown. What is known is that when he left the sea, Atget moved to Paris and enrolled in the Conservatoire National Supérieur d'Art Dramatique, one of the oldest and most prestigious acting schools in Europe.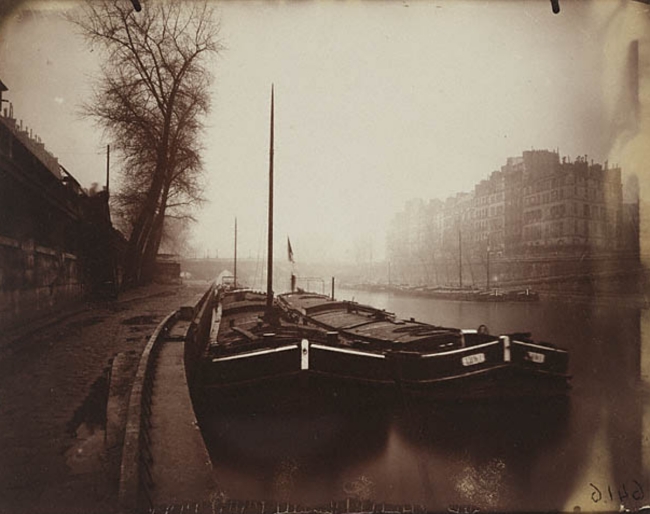 He studied acting and its attendant crafts (such as stage design) for two years before joining a minor repertory company. He was apparently limited to minor roles–mostly villains. The company played in small towns in distant provinces. This was Atget's life for nearly two decades. It was during this period he met Miss Delafosse-Compagnon, who was to be his lifetime companion. Although he was said to be talented, Atget never achieved much success as an actor. As he approached the age of 40 he realized he had no real future on the stage. For a year or so he tried to earn a living as a painter, with even less success. Seeking a way to earn a living, Atget took up the camera.
It must be understood that when Atget began to shoot photographs, it wasn't to create art. He simply wanted to make enough money to keep himself and his Valentine housed and fed. To that end, his photographs were purely documentary and practical. He called his small commercial enterprise Documents pour Artistes.
It was a common practice of that era for painters, stage designers, interior decorators and others to base their work on photographs. This was Atget's clientele. He therefore focused his attention on the types of images most commonly sought after for stage backgrounds. Not the popular tourist attractions or the more famous Parisian buildings and sites, but the small streets and alleys, the parks and quays, the mundane sights and quiet scenes of everyday old Paris.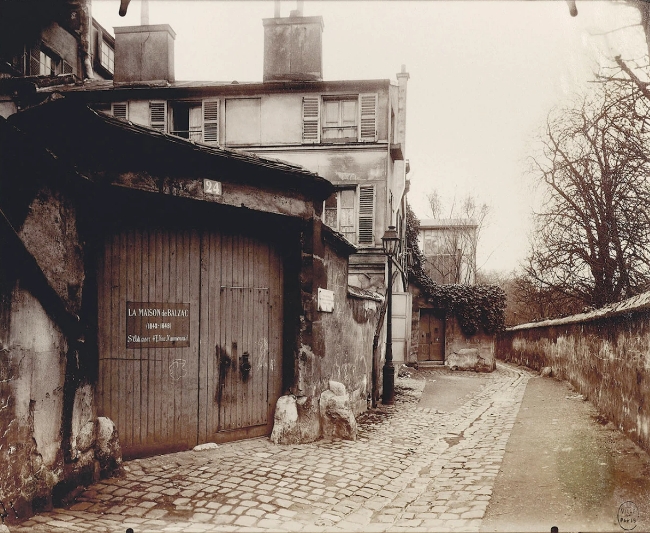 The operative term there is 'old.' Atget understood that the most common scenes in most Parisian plays were set in the older parts of Paris. To suit the purposes of his clients, Atget photographed Paris like it was stage scenery. His compositions tend to show the landscape either sloping upward or downward into the distance, often in the exaggerated way of a stage setting, with the focus of attention off to one side. On the stage, this allows the actors to be in center stage while still allowing the backdrop to clearly establish the setting. Except for the rare occasions when he was hired to photograph people, Atget's images are usually entirely unpopulated.
Although nobody would describe Atget as a rousing success, for the next thirty years he was able to maintain a modest income that allowed he and Valentine to live in a reasonable apartment in Montparnasse (where many of his clients lived). Their neighbors were mostly the traditional starving artists, including the avant garde photographer Man Ray. Atget, it must be said, wasn't terribly interested in the Surrealist work of Man Ray or in Surrealist theory. For that matter, he doesn't appear to have been terribly interested in photography as a medium of art. He certainly didn't consider his own work to be art, nor did he consider himself an artist. "These are simply documents I make," he often said.
Atget gradually became something of a recluse and a misanthrope. His personal habits can only be called eccentric. From the age of 50 on, he refused to eat anything other than bread, milk and sugar. He left the apartment only to take photographs, lugging his massive camera for miles to expose a few frames, then returning home.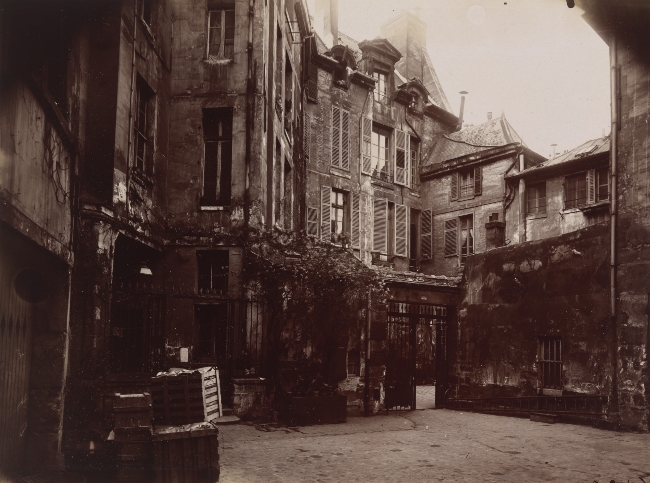 By the time he died in 1927, Atget had amassed approximately ten thousand photographs and some two thousand negatives. By modern standards that may not seem like a lot, but it must be remembered that Atget was working with a heavy large format camera that required a sturdy wooden tripod and used glass plates for negatives. His equipment was hardly cutting edge; in fact, it was considered fairly outdated when he first bought it. Yet he used it for thirty years.
About two years before his death, Atget came to the attention of Berenice Abbott, a young photographer working as Man Ray's assistant. She was intrigued by the way Atget would fracture the real world by photographing reflections on the windows of small shops, producing an image that seemed to exist in more than one reality. Visually, those images were very Cubist, yet they were also clearly representational. Abbott introduced his work to Ray, who published some of Atget's photographs (without credit, sadly) in the magazine La Revolution Surrealíste. Although his work became known to a small cadre of surrealists, virtually nobody noticed when Eugène Atget died in 1927 (a year after the death of his companion, Valentine.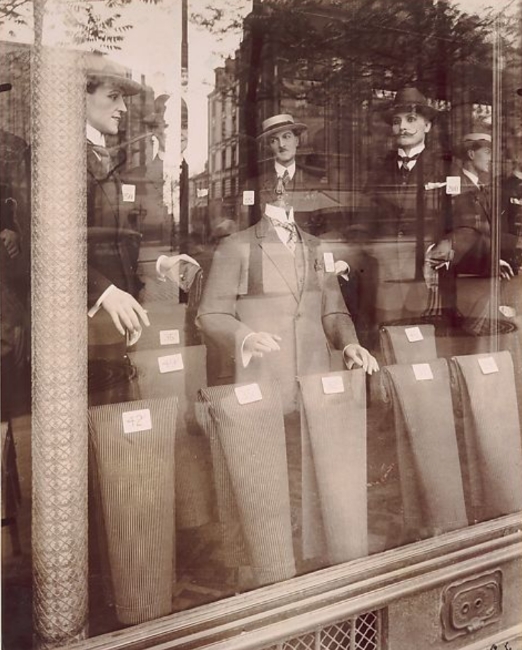 Ms. Abbott managed to find sufficient funds to purchase most of Atget's prints and negatives after his death. Although she continued to praise his work, he received little attention for the next four decades. Then Abbott convinced the Museum of Modern Art in New York to buy the negatives and prints. Beginning in 1968, MoMA began a series of exhibitions of Atget's work; they have published a four-volume series of books based on those exhibitions. Atget is now considered one of the masters of early photography.
Little of that attention is based on what the Surrealists saw in Atget's photography. It's based more on what Atget saw himself–a stage setting; the intersection of old Paris and potentially new stories. By focusing on the older parts of the city, Atget had produced a stunning and rather idiosyncratic look at the city. Surprisingly, because his work depicted ordinary settings rather than trendy ones, much of the old Paris of Atget still exists. In fact, photographer Christopher Rauschenberg spent two or three years visiting Paris in order to recreate Atget's photographs.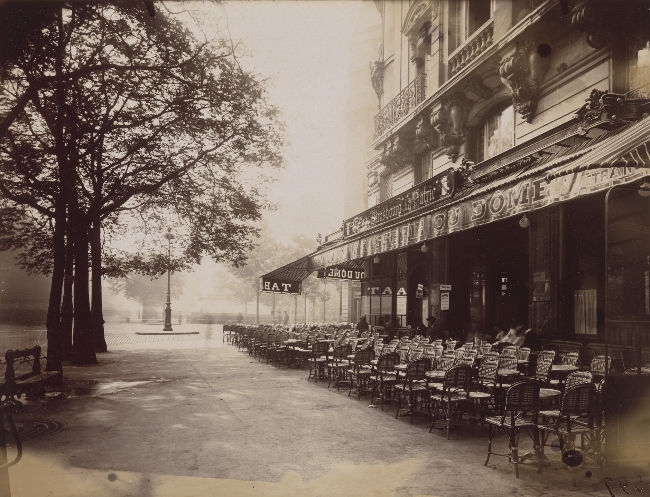 Because Atget was careless (or, more likely, indifferent) about cataloging or dating his images, it wasn't until the staff at MoMA managed to put them in some sort of chronological order that art historians began to see the evolution of his photography. They began to notice the emergence of recurring themes in his work, themes that were almost certainly deliberate. For example, Atget in his later years developed a fondness for including a single tree in many of his compositions. Art historians, being both academics and romantics at heart, have come to interpret those lone trees as a metaphor for Atget himself.
There is no doubt that over the course of the three decades Atget photographed Paris, his work became more personal and more artful. His work gradually showed an increased awareness of abstract form and shape, a very deliberate use of negative space to enhance the composition, and a rather Cubist delight in shattering and re-arranging reality. Many of the common techniques seen in modern photography were quietly and modestly introduced by Atget.
By attempting to photograph Paris in a way that would be amenable to the stage, Atget created a Paris that is eminently and immediately accessible to almost everybody. His work, at first glance, seems mundane–and, in many ways, it is. But it is the ordinariness of a real place with a deep history, a place in which we can easily imagine people entering the otherwise empty setting (from stage left) and living out dramatic lives. In Atget's most memorable work Paris is always waiting for the actors to arrive. And we are the actors.