She was born in the spring of 1907 in Poughkeepsie, New York. Her parents named her Elizabeth Miller, though she went through life using her nickname 'Lee.' Her career–in fact, her entire life–could be described as remarkable. It could, with equal accuracy, also be described as horrible.
As an adolescent Miller frequently posed for her father, an amateur photographer. Apparently she often posed in the nude. One biographer noted, "He took pictures of her that to our eyes are very dubious." We can only guess whether or not those images played any part in Miller being sexually assaulted by a relative when she was seven years old. As a result of that assault, she was infected with a sexually transmitted disease, gonorrhea.
Understandably, Miller never publicly discussed her father's photos or the assault. It would be impertinent to speculate how those events shaped her later life, but it would be negligent not to mention them. We do know she had a problematic childhood, and was expelled from several schools in the Poughkeepsie area.
When Lee Miller reached her majority at 18, she moved to Paris and studied stage lighting and costume design. The following year, she moved to Manhattan, where she studied drawing and painting. Her studies were interrupted by a near-accident. Miller made the classic tourist mistake of stepping onto a Manhattan street without checking for traffic. Luckily an alert stranger pulled her back in time to prevent her from being struck by a car. That stranger was Condé Nast, the magazine publisher (Vogue, Vanity Fair, House & Garden). Struck by her natural beauty, he hired Miller as a model. For the next two years, she posed for most of the best photographers in the world, including Horst P. Horst and Edward Steichen.
Miller became the original supermodel. Her face and body appeared on the covers of fashion magazine and in advertisements. That came to an end in 1928 when she became the first woman to appear in an advertisement for a feminine hygiene product – Kotex. Although the photograph (taken by Steichen, by the way) was absolutely modest, the furor it aroused caused her to leave the U.S. and return to Paris.
In Paris, she was introduced to the surrealist artist-photographer Man Ray. Miller became his student, his photographic assistant, and his lover. While working in his darkroom, Miller accidentally exposed a negative plate to light, causing it to 'solarize.' Together, she and Man Ray experimented with and refined the technique, which eventually brought great acclaim to Man Ray (who neglected to mention Miller's role).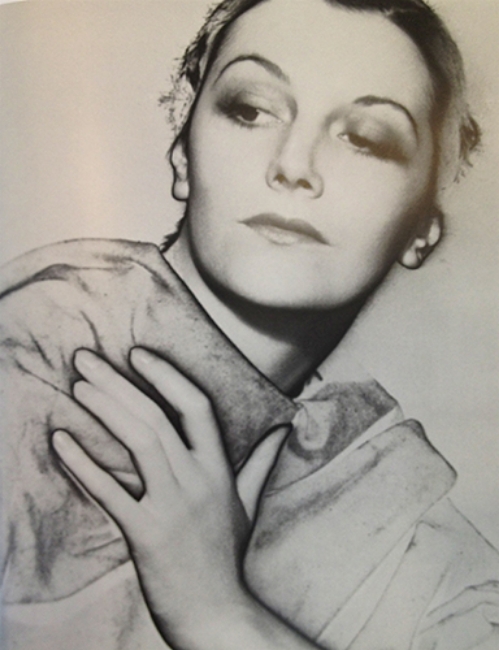 Given that Miller had grown up around cameras, it's not surprising that she quickly proved to be an excellent photographer. After a tumultuous year with the fiery and jealous May Ray, she left him and opened her own studio. Miller began to accept assignments from leading European fashion designers, including Chanel and Schiaparelli. She also created and exhibited a series of critically received surrealist photographs and portraits of artists and celebrities (ranging from Jean Cocteau and Dylan Thomas to Charlie Chaplin).
In Paris Miller lived a classic bohemian life; she posed for dozens of artists, she created her own surrealist images, she took many lovers from among the most progressive artists of the day. One sculptor made a mold of her breast, from which he created a style of champagne glass that became very popular. Man Ray, however, "bullied her friends, threatened her lovers and stalked her through the streets of Paris." In 1932, Miller decided to return to New York City.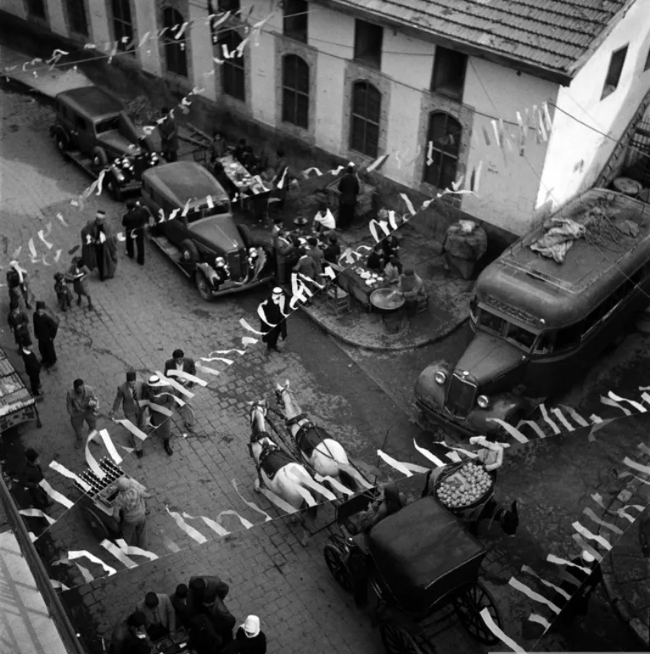 There she met and, in 1934, married Aziz Eloui Bey, an Egyptian millionaire and art patron. They moved to Alexandria, Egypt. Miller continued to take photographs and gather around her a glittering array of intellectuals and artists. Three years of Egypt and marriage was enough, however, and in 1937 Miller returned to Paris.
Again she took up with the art crowd, including Max Ernst, Joan Miró and Pablo Picasso. She fell in love with the surrealist painter, Roland Penrose (who wrote one of the best critical studies on the work of Picasso–a book for which Miller shot the photographs; Penrose was also responsible for the first tour of Picasso's painting Guernica).
When World War II broke out in 1939, Miller and Penrose left Paris for London. The war followed them. Miller used her camera to document the London Blitz. During the eight months of that bombing campaign, more than 43,000 civilians were killed and over a million London homes were destroyed. Miller produced an amazing series of photographs which were published in a book, the text for which was written by Edward R. Murrow.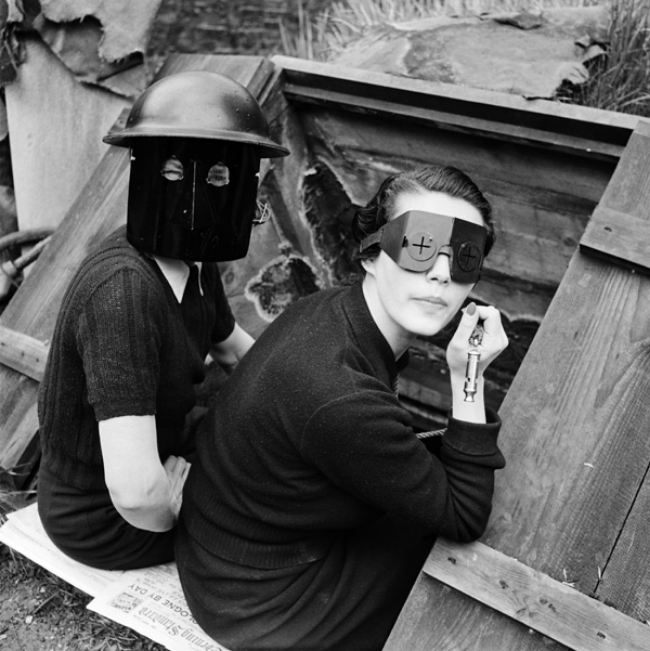 When the Allied armies launched the invasion of Normandy, Miller tried to become a war correspondent for the British newspapers. When they refused (it would, of course, be highly improper to allow a woman to cover the war), she convinced Condé Nast to accredit her as Vogue magazine's war correspondent.
Miller arrived in Normandy a couple of weeks after the D-Day invasion. Despite the orders of the U.S. Army that women correspondents were not to be allowed near combat operations, Miller managed to accompany the US 83rd Division during the siege of St. Malo, one of the most strange battles of the war. For her trouble, Miller was briefly arrested by the U.S. Army for violating the terms of her accreditation. She was one of only two women known to have photographed actual combat during WWII (the other being Margaret Bourke-White).
Miller's work during the Blitz and the battle for St. Malo helped change the nature of photojournalism. At that time most war dispatches were long blocks of text accompanied by a few photographs. Miller's work was just the opposite: a series of related photographs accompanied by short fragments of text. It's unknown if that style was something Miller devised by herself or an artifact of reporting the war for a fashion magazine.
She continued to report in that style, staying with the troops as they fought their way toward Paris. She was with the first troops entering Paris, the city where a few years earlier she'd led such a bright, bohemian life. Miller remained with the combat troops as they fought through Luxembourg and Alsace, and she was present when U.S. and Soviet forces linked up. Then came the liberation of Buchenwald and Dachau.
Her photographs of the newly liberated death camp survivors–among the first ever published–stunned the readers of Vogue. They were run under the headline "Believe It!" Unlike her male counterparts, however, Miller also photographed the revenge taken by the inmates on their former guards: one beaten and hanged, another shot in the head and dumped in a stream, a guard wide-eyed and dazed with a grotesquely shattered nose about to be summarily executed.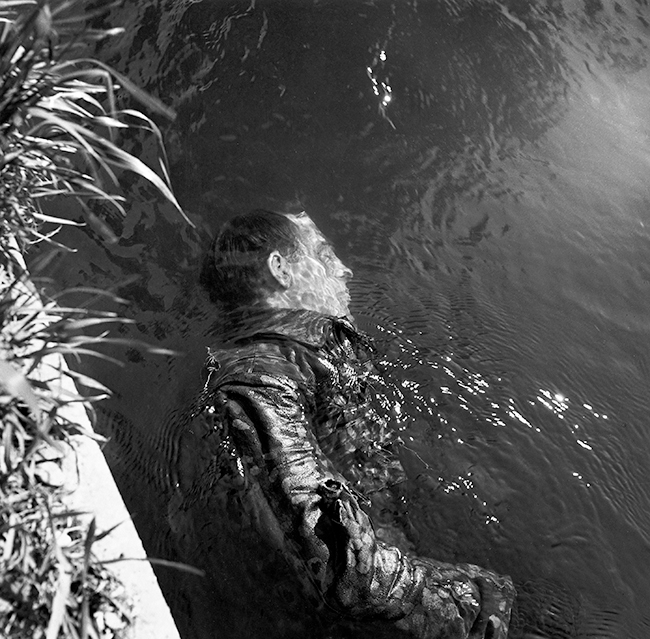 Miller continued with the troops, photographing every new horror she encountered. In Leipzig she photographed the family of the former mayor, all of whom had committed suicide by poison. The tenderness of the image of the mayor's teenaged daughter, wrapped in her father's Nazi jacket has the heart-rending ambience of a Renaissance painting of a martyr. Miller took those photographs just after her 38th birthday.
She had moved from artistic surrealism to the brutally horrific surrealism of war. In one of Adolf Hitler's former houses, she had another photographer–David Schermer–photograph her as she bathed in Hitler's tub. Her uniform is folded untidily on a chair, her combat boots beside the tub, a small nude statue (whose pose Miller nearly echoes) sits on a vanity table, and in the background is a portrait of Hitler himself.
Miller refused to return to London at the end of the war, continuing to travel through the destroyed countryside. In one of her articles for Vogue she wrote,
"Germany is a beautiful land dotted with jewel-like villages, blotched with ruined cities and inhabited by schizophrenics. Little girls in white dresses and garlands promenade after their first communion. The children have stilts and marbles and tops and hoops, and they play with dolls. Mothers sew and sweep and bake, and farmers plough and harrow; all just like real people. But they aren't."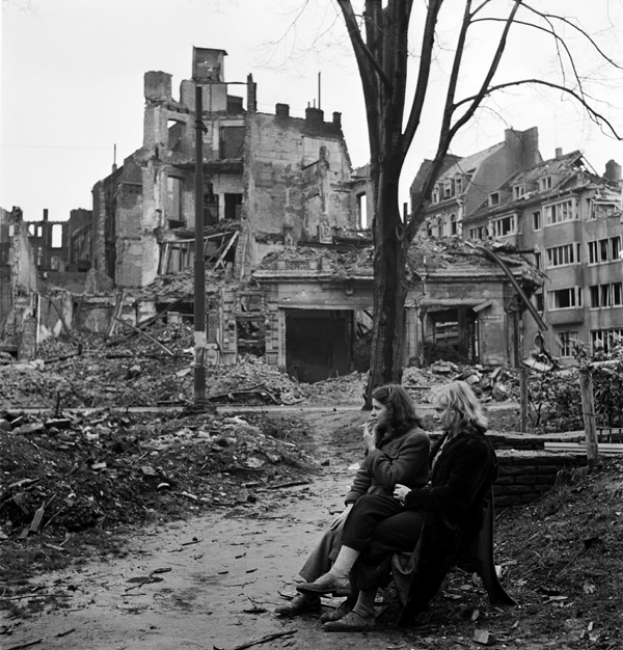 A year or so after the end of the war, Miller returned to London and to Roland Penrose. She was depressed, exhausted, and drinking heavily. From September of 1940, when the bombing of London began, until late in 1946 Miller's life had been consumed by war. Like many war veterans, she seemed unable to make the transition to peace. She became pregnant, divorced her long-abandoned Egyptian husband, and married Penrose. For the next few years Miller continued to accept a few photographic assignments, but she was unable to care about the work. Fashion photography–even ordinary photojournalism–lacked the intensity of her work during the war.
Miller stopped taking photographs altogether in the early 1950s. She refused to allow any of her photographs to be shown and rejected all attempts to interview her. According to her son. Antony Penrose, she very rarely spoke about the war. But it was clear she never fully recovered from it. Though she and her husband continued to support the arts, Miller herself remained withdrawn. She continued to drink heavily. She devoted the rest of her life to collecting cooking recipes.
Lee Miller had been the most successful and sought-after fashion model of her day. Through talent and hard work, she became an important art photographer. She lived for years in a bright, carefree social whirlpool filled with clever, intelligent, beautiful people who lived for the sake of art. When war came, instead of retiring to a safe place, she insisted on documenting it. She witnessed horrors beyond imagination, horrors from which she would never recover. She did it all with her eyes wide open, she never shied away, and she endured more than most could stand. When it became too much, she closed herself off behind a curtain of alcohol.
She died in 1977. After her death, her son Antony found more than 500 prints and 40,000 negatives stashed in her attic, many of them never seen by anyone. In an appropriately surreal touch, the story of her life was turned into a musical (Six Pictures Of Lee Miller) in 2005.